Welcome to the Home Page of
BAT-KOL girls choir
The choir of the Israel Conservatory of Music, Tel Aviv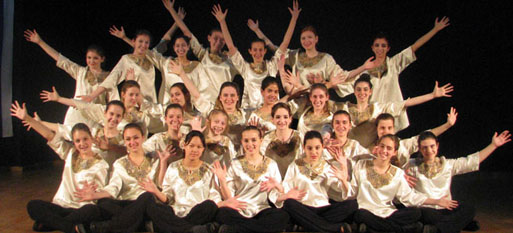 We are the 35 members of BAT-KOL, one of the leading youth choirs in Israel.
We regularly participate in local and international festivals, television programs, opera and theater productions as well as in public events.
Meeting twice a week we enjoy singing together and benefiting from ear and voice training and music interpretation.
The choir performs classical music (works by Costeley, Pergulezi, Bach, Mozart, Mendelssohn, Faure, Bartok, Britten and others), Israeli music (Braun, Seter, Zorman), works written especially for BAT-KOL, as well as folk songs and popular music.

Anat Morahg has been the music director and conductor of our choir since it was established in 1984.
---
Performances in recent years include:

IDOCO International Choir Competition and Festival at Vaasa, Finland (1998)- First Place andGold Diploma.
The International a-capella Choir Competition, Bruck an der Mur, Austria (1999) Gold Diploma.
The 3rd International Choir Competition, Isola del Sole, Grado, Italy (April 2001) First Place and 2 Gold Diplomas.
International Musical Eisteddfod, Llangollen, Wales, Great Britain (2004)
‎International Choir Festival in Tolosa, Spain (2005)‎
‎‎"Europa Cantat" International Choir Festival in Utrecht, Holland (2009)‎
Fully staged opera productions:

"La Boheme" - The Israeli Opera (1993)
"Carmen" - The Tel Aviv University Academy of Music (1995)
"Pique Dame" - The Kirov Opera, St. Petersburg at the New Israeli Opera (1999) .
‎"Carmen" - The New Israeli Opera (2010)‎
Israeli Television and Radio productions and official State events.

Members of BAT-KOL representative choir are 12 to 18 years old.
Members of BAT-KOL's preparatory choir are 10 to 12 years old.
Members of BAT-KOL's preliminary choir are 7 to 10 years old.
Dahlia Lazar
is the choirs' coordinator and the conductor of the preparatory and the peliminary BAT-KOL choirs

---
Interested? New members at all three levels are welcomed
Now, here is how you can contact us:

Anat Morahg
morahg@netvision.net.il
The Israel Conservatory of Music, Tel Aviv
19 Streiker St. Tel Aviv, Israel 62006
Phone: + 972 3 6474898
Cell phone:+972 52 3598143
Fax:+ 972 3 6055169
Congratulations! you have managed to be
visitor number
at our site
---